A patient in my office for addiction treatment once stated:
"When I started at the Methadone clinic; another patient told me, 'Say good bye to the next 5 years of your life'. That was 5 years ago!".

This quote provides insight into a problem with addiction treatment centers. Many people are aware that Methadone treatment involves daily visits to clinics. I have had many patients complain about clinics not responding to their desire to taper and or having their dosage rapidly increased. The longer a patient stays "in treatment" the more profitable it is for the clinic.

Note the following quote from the American Society of Addiction Medicine:


'…Equally as important, recommended dosages of methadone and Buprenorphine when used to treat addiction involving opioids differ from recommended dosages for pain treatment. The ASAM National Practice Guideline for the Use of Medications in the Treatment of Addiction Involving Opioid Use notes that, while a relatively low dose of methadone (e.g., <30 mg per day) can lessen acute withdrawal, it is often not effective in suppressing craving and blocking the effects of other opioids.viii Most patients fare better if their initial 30–40 mg per day dose is gradually raised to a maintenance level of 60–120 mg per day. Indeed, multiple randomized trials have found that patients have better outcomes, including retention in treatment, with higher doses (80–100 mg per day) than lower doses.

Regarding Buprenorphine, the ASAM Guideline recommends that Buprenorphine doses after induction and titration should be, on average, at least 8 mg per day. However, if patients are continuing to use opioids, consideration should be given to increasing the dose by 4–8 mg. The US Food and Drug Administration (FDA) approves dosing to a limit of 24 mg per day. There is some evidence regarding the relative efficacy of higher doses.

Converting these recommended dosages to morphine milligram equivalents (MME) (also known as morphine equivalent units (MEU)) reveals that they exceed the CDC recommendations regarding MME for chronic pain. The recommended 60-120 mg of methadone per day becomes 600 –1,440 MMEix; the recommended range of 8-16mg Buprenorphine becomes 80-160 MME."

MME or Milligram Morphine Equivalent is a conversion factor used to convert between opiate medications. Above it is noted that the MME for Methadone is 5 to 10 times greater for Methadone to obtain the same desired effect! Using the lowest dose of medication has the less potential for harm to a patient in the long run. During my experience in treating opiate addiction several questions have come up:

1) Why would a patient choose to make daily visits to a Methadone clinic when they can have weekly or monthly visit for Buprenorphine?

2) Buprenorphine is recommended to be started when a patient is at 30-60 MME of an opiate. So, doesn't the rapid induction and increasing of Methadone dosage to a high MME (above 60 MME as described above) prevent or deter conversion to Buprenorphine?

3) Does the goal of keeping a patient "in treatment" lead to a conflict of interest?

4) How does one determine if their clinic is keeping them on a high dose of Methadone to prevent the patient from leaving the clinic?

5) Does a counselor at a Methadone clinic serve a patient or maintain the patient "in treatment" for the clinics monetary gain?

6) Why don't Methadone clinics report to the prescription monitoring data base? Doesn't this create risk of patients diverting the opiates while they are in treatment?
The above questions are difficult to answer with certainty. However, one can certainly see that there is a potential for a conflict of interest between the patient's health and the clinics profits.
In my Marietta addiction center, we offer Buprenoprhine (Suboxone, Subutex and Sublocade) as a Methadone alternative. These medications offer the flexibility of weekly to monthly dosing. We refer our patients out to outside counselors to avoid conflict of interest.The Buprenoprhine dosage used has a lower MME than patients commonly using Methadone therapy.
Many new patients presenting to our Suboxone treatment center ask about how long they will need to be in treatment. My standard answer:
"It will be more than six months but I am not going to extend in out for 6 years. Having said that, there are people who need to be on therapy for extended periods. The goal is to use the least amount of medication necessary as all medicines have the potential to damage internal organs with long term use."
In addition to addiction treatment with Suboxone, our office also is able to use the NADA acupuncture protocol for addiction. As a licensed pain management clinic we treat pain primarily with acupuncture and physiotherapy. Our goal is to have patients "pain free without pills"TM. This includes having patient free from the pain of addiction. With our pain management patients, we ALWAYS use the smallest dose of opiates possible to treat pain. We introduce all of our patients to acupuncture with one FREE treatment. Why the FREE acupuncture treatment? To demonstrate to patients that there are other means to treat pain other than pills. Remember our goal: "Pain Free Without Pills"TM.
Whether you need addition treatment or treatment for chronic pain with responsible opiate prescribing we are here for you. Call us today or make an appointment on line: Click Here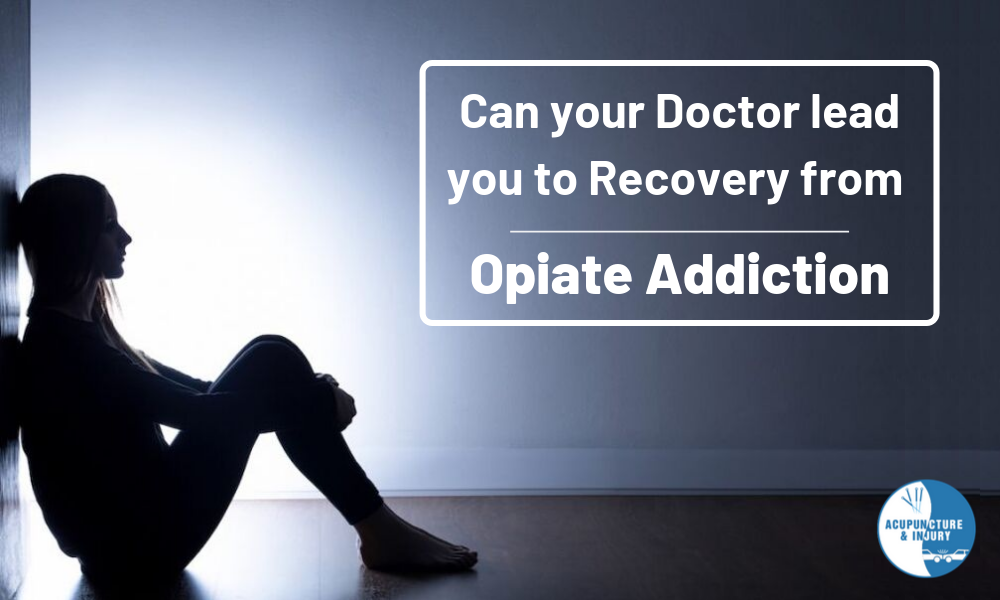 Medically assisted therapy for opiate addiction has many critics. Some value only specific counseling treatment programs for opiate addiction. Many will criticize medically assisted therapy as simply "substituting one drug for another". The fact of the matter is, there is no one therapy that works for every patient. One must understand that the term "medically assisted" implies there is more than just the medication being used to help the patient in recovery.
On the medical side, some facilities will not differentiate between one opiate treatment modality and offer a number of different medications for the treatment of addiction. Unfortunately, the modality chosen is often done for monetary reasons and not the benefit of the patient. As one patient recently lamented: "When I started at the Methadone clinic, another patient told me 'say goodbye to the next five years of your life'. That was 5 years ago." The statement depicts the actions of some Opioid Treatment Centers keeping patients on medication for the sake of repeat visits and monetary gain without consideration for weaning the patient off or down from medication. This IS NOT the way we treat patients at our Opioid Treatment Center.
We have discussed the use of Suboxone (Buprenorphine) as a Methadone alternative in a previous blog. Methadone has a higher risk profile and usually requires more frequent visits. Many patients are prescribed Methadone and kept on it for long periods of time. This is done despite the alternative of Suboxone treatment being available. A Suboxone Treatment Center like our office can provide Suboxone treatment and appropriate referrals to counselors as part of a treatment plan to eventually have the patient completely "opiate free". As a Subxone treatment doctor, I often tell my patients that: 80% of treating addiction is counseling the other 20% is monitoring and adjusting the medication dosage.
What often isn't discussed is: How do patients get into treatment? I have described elsewhere how so few primary care doctors screen for or make referrals for opiate addiction. The more complex part of the problem is how quickly some doctors will prescribe opiates. For example: I once had a patient referred for pain management stating she had Rheumatoid arthritis in her hands. She stated that her primary care doctor told her he could no longer treat her pain and that she had to go to pain management. Strangely, she had no laboratory or X-ray studies done to confirm the Rheumatoid arthritis diagnosis. When X ray studies were performed they only revealed "mild osteoarthritis". Lab studies were also negative for Rheumatoid arthritis but the patient had already developed addictive behavior! When doctors are cavalier with the prescribing of opiates and neglect to screen for opiate or other addiction, the results are not in the patient's best interest.
So the question remains: "Can your doctor lead you to recovery from opiate addiction?" That question should not be confused with "Can a doctor lead you to recovery?" The difference of course is how YOUR doctor handles opiates and addiction. You can simply ask your doctor if they regularly refer patients for addiction treatment. If so, where to? Keep in mind that about one in ten patients in a given primary care waiting room uses opiates. Is YOUR doctor quick to prescribe opiates? Does YOUR doctor routinely refer patients for non opiate-based pain treatment like acupuncture, physical therapy or chiropractic? If not your doctor maybe leading patients toward addiction which is opposite to the road to recovery! In addition, does YOUR doctor advocate for insurance companies providing non opiate based coverage for pain management when it's denied?
You can learn about your doctors referral habits by asking a few simple questions:

• Where does he/she refer patient for Addiction Treatment in Georgia?
• What methadone alternatives does your doctor recommend? Does he/she have a referral relationship with a local Suboxone Treatment Doctor?
• Knowing your doctors referral habits can give you insight as to whether or not they can lead you or a loved one to recovery from opiate addiction.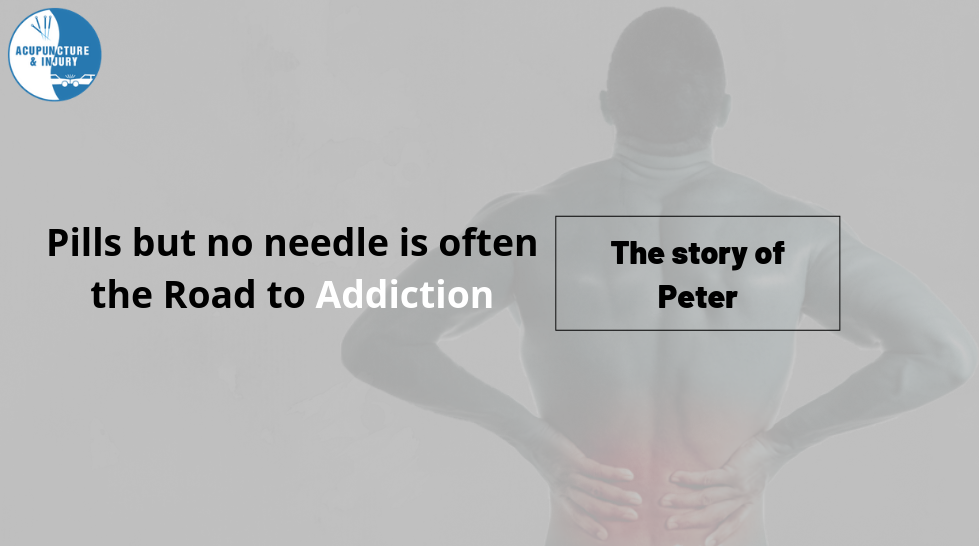 The story of Peter
The story of Peter. Peter had the unfortunate circumstance of being injured an automobile accident in Georgia. He was uninsured at the time of his accident. His lawyer was able to settle Peter's case but after the lawyer took 40% of the gross personal injury settlement and negotiated lower fees for Peter's doctors, the attorney had pocketed more money than Peter! Matters were made worse when, Peter continued to have chronic pain from his injuries. Peter was still uninsured and when he tried to obtain insurance, his monthly premium quotes were in the excess of $500a month. A cash visit to a Pain Management Doctor was less than $300 and would at least give him pain relief.
During his Pain Management Therapy, Peter wasn't able to afford injections such as epidurals, he wasn't offered acupuncture and he had already had chiropractic during his original treatment with his auto accident. He stated:"I want to try something else. The chiropractor helped but I am still in pain."Peter had a several visits with a physical therapist but became discouraged and angry saying "all they do is charge me to teach me exercises that I can do at home!" He had no primary care doctor due to lack of insurance. The Pain Management Specialist only offered Peter opiate pain pills since Peter couldn't afford interventional treatments and the pain doctor didn't perform acupuncture.
Peter was able to continue to work construction and handyman jobs due to the relief provided by the pain pills. However, Peter became more physically dependent on the pain pills. After a while, Peter's doctor became uncomfortable prescribing Peter higher doses of his medication. Peter then turned to marijuana and CBD oil to make up for the pain relief that the pills no longer provided. As a result, Peter tested positive for a urine drug screen and was discharged by his Pain Management Doctor.
Peter was still unable to get insurance due to the high premiums and out right denials caused by his "preexisting condition" from his auto accident. After being discharged from his pain doctor's office, Peter tried to enter another pain clinic. He was told things like "it's a 4- 6 week wait to get in after we review your records" and "we only accept new pain patients by referral from other doctors". Peter was still having pain and needed to work. He started obtaining pills on the street. He experimented with other forms of opiates and even tried Heroin. Peter's drug used became more than a dependence he had crossed over into the realm of addiction. He was missing work to seek out drugs, resorting to selling drugs, stealing and other activities he could engage in to get the money to fuel his habit. Eventually, Peter lost his job, was homeless and had alienated his family due to his addiction. He finally hit rock bottom and overdosed on Fentanyl which was manufactured on the street to look like the Oxycodone he had been used to taking.
While In the hospital, Peter was diagnosed with Hepatitis (apparently from his previous intravenous drug use). Upon discharge he was referred to Methadone treatment. Peter asked about Methadone alternatives but was told by his doctor there were none. Peter had heard about and occasionally used Suboxone during his time "on the streets". Peter remembered Suboxone decreasing his cravings and making him feel"normal" without feeling groggy and short of breath like he did with methadone. Peter looked around and inquired about Opioid Treatment Centers and finally found a Suboxone Treatment Center where he could pay cash at a reasonable price. The Addiction Treatment in Georgia center was able to change Peter from methadone to Suboxone. Peter was also introduced to acupuncture to treat his chronic pain from the auto accident injuries. Peter was shocked at how much better he felt after a course of 10 acupuncture treatments. Peter said, " I wish I had known about these needles before I took all those pills!"
As Peter continued his Suboxone and Addiction Treatment in Georgia, he was eventually able to find work again. He started and continued counseling at a church nearby (as he couldn't afford a professional counselor without insurance). Peter learned to cope with life's ups and downs. He learned coping skills and how to avoid triggers. He even learned to tolerate the judgmental look he received from the pharmacist when he filled his Suboxone prescription. He found it odd and often chuckled to himself at the irony.Peter remembered it was the same look he received when he would get his Oxycodone prescription filled in the past.
Eventually, Peter was old enough to obtain Medicare. He had lost homes, jobs family and had permanent liver damage. When he had his first Medicare exam he was offered opiates for his chronic pain. Peter refused stating he would "pay out of pocket" for acupuncture (which isn't covered by Medicare). Peter's Medicare doctor was always surprised by Peter's insistence that acupuncture was controlling his pain. Despite Peter stating his pain was well controlled, Peters' doctor continued to offer opiates. One day Peter finally became annoyed and asked: "Pills? Is that all you have? You do know that I have liver damage?, Right? Why do you keep trying to get me to take pills? Don't you realize that the acupuncture needles have saved me from so much pain? If I had known about those needles I would have probably never taken the pills that got me into so much trouble!! WHAT IS IT THAT YOU DON"T UNDERSTAND ABOUT THAT!!!??
Peter's doctor said,"well we don't have studies or insurance approval stating that acupuncture really works." Peter became more upset and said" DO YOU THINK I NEED A STUDY TO TELL ME THAT MY PAIN IS BETTER? ACUPUNCTURE HAS BEEN AROUND FOR THOUSANDS OF YEARS AND YOU ARE TALKING TO ME ABOUT STUDIES?? REALLY? REALLY? DO YOU EVEN KINOW ANYTHING ABOUT ACUPUNCTURE? Peter's doctor then said, No I have not studied acupuncture. I am a medical doctor. Peter then said, acupuncture has got me "Pain Free without Pills"TM you doctors all have something to learn!
We prescribe Buprenorphine (Suboxone) for addiction treatment. Unlike Methadone, Suboxone doesn't require the daily dosing of medication at a Suboxone Treatment Doctor office. Consequently, patients have more time for work family and other normal life activities.
Methadone also has a higher overdose rate and side effect profile. We feel Suboxone (Buprenorphine) is a better choice for patients needing treatment for opiate addiction. Quite simply, why spend the time visiting a clinic daily for Methadone when you can visit our office on a weekly or monthly basis? If you need help getting started with treatment or you want to switch from Methadone to a Buprenorphine product,
Our team at Acupuncture and Injury (Dr. Granger) has numerous practice areas. With more than 15 years of experience at our side, we have the specialized skills, knowledge, and resources to diagnose your issues and help you start on the road to recovery. Our Suboxone Treatment Center is conveniently located in Marietta, offers competitive and affordable pricing, and has relationships with other medical and legal providers that we can refer you to, if necessary. Call our office today. 678-247-2115
For people who are addicted to opioids, enduring the effects of withdrawal can make it extremely difficult to quit. That's why buprenorphine, widely marketed as Suboxone, has become such a popular treatment. By replicating the sensations of getting high on Opioid Medication Treatment, buprenorphine provides a temporary replacement that enables a person to stop taking the opioid. It's essential, however, to take buprenorphine only under the guidance of a health professional. As this video shows, it's easy for buprenorphine use to become its own kind of addiction. However, the opioid medication treatment has a very high success rate. If you are suffering from opioid addiction , contact a opioid addiction treatment services center in Marietta GA, for help.