What are the benefits of acupuncture over pain pills?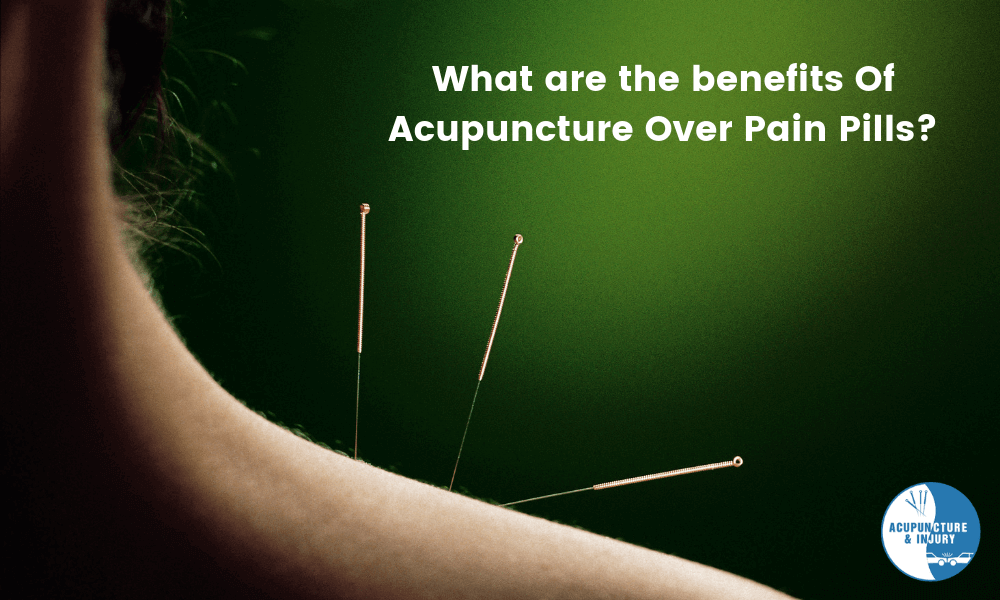 "Why do you do this?"
In our office we provide Opioid Addiction Treatment Services, auto injury treatment, pain management, bio-identical hormone replacement therapy, and acupuncture. A question I am being asked more often is: "Why do you do this?". The question is often asked in regard to acupuncture. The questions has never been asked of me in regard to prescribing medicines or addiction treatment. It's odd when one considers that, acupuncture has been used for thousands of years before prescription medicines or treatment for addiction were present.
Why opiates with their higher side effect profile and complication rates are chosen over acupuncture is a marketing and monetary issue that benefits the pharmaceutical industry more so than the individual patient. As I often say; "Nobody has overdosed from acupuncture".
My position is that, opiates should be used as a last resort not a primary or knee jerk reaction to get a patient out of the office or a quick fix for their pain. Acupuncture, physical therapy, and chiropractic ALL have the benefit of addressing the underlying issue without the risk of medication side effects (to include an overdose).
So, "why do I do this?" Simply, to safely make patients "pain free without pillsTM". How I got started is: the real question. After treating auto injury patients primarily with prescription medications along side chiropractors for a number of years, I noticed a few things. One, I was only masking pain during chiropractic treatment. Two, the medical profession as a whole isn't set up to treat pain other than masking it with pills. Many times insurance companies will deny physical therapy and sometimes deny surgery to patients in need. There are also times when these interventions fail. Some times, patients are limited to the number of visits that an insurance company will pay for. After looking at the situation, I began looking for a way to contribute to bringing pain relief to patients in an effective and economical way.
I have been practicing Chinese martial arts since 2007. This led me to look at acupuncture as a modality to treat patients. After researching the additional training required, I decided to obtain the training and add acupuncture as a treatment modality in my office.
My staff and I are happy to introduce acupuncture to our personal injury addiction medicine, and pain management patients. It's not always without obstacles. We have had attorneys and chiropractors ask us NOT to perform acupuncture. Yet, these same attorneys and chiropractors have never asked us NOT to prescribe opiates! As we have been providing Addiction Treatment And Recovery Services in Marietta, Georgia for a number of years we see then potential harm that opiates cause. The aforementioned attorneys and chiropractors have monetary interests, as they want "conventional treatment to add to the value of the case". We favor putting the patients health as the primary concern. The medical community as a whole will prescribe opiates BEFORE acupuncture, physical therapy or chiropractic. Unfortunately, the number of physicians prescribing opiates far out numbers the referrals made for opiate addiction treatment. The result is our current opiate epidemic.
Our goal is to make patients "pain free without pillsTM". Currently, we offer acupuncture as well as Low THC oil registration (for qualified patients) to receive pain and decrease opiate use. Our hope is that chiropractors, medical doctors, lawmakers and insurance companies will see the reasoning in our approach and make our services more accessible. In the mean time, we offer a number of reasonably priced cash pay packages for people whose insurance will not cover their treatment. Remember, our first acupuncture treatment and consultation is FREE! We also have veterans' discounts!